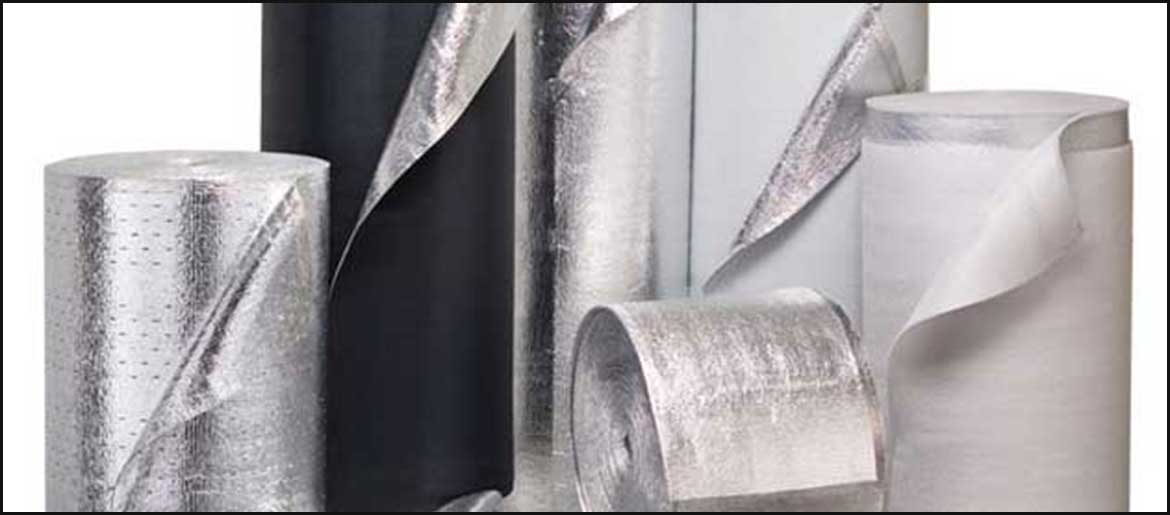 ANSWERS
Why buy Low-E™ Insulation?
Environmentally Safe Products Inc. ("ESP Inc.") in New Oxford, PA manufactures the Low-E™ brand of insulation. The foil finishes are 99.4% pure polished aluminum (not to be mistaken by the metalized finish on competitors' products called Mylar) with a polyethylene core of closed cell microscopic air bubbles. The patented process flame bonds the foil to the foam and is done without glues. Low-E™ has a large variety of products, sizes (12", 16", 18", 24", 4', 5', 6') and finishes available (foil, white foil, black foil) making it the #1 reflective insulation on the market.
The value-add to your new home or remodel job is more important than mere words. We are very cost competitive and our products have been used for more than 25 years with the largest production builders and remodelers in the United States because we save them money on their wall assemblies and consumers find their houses more comfortable. Because of its use in thousands of homes and commercial projects per year; the products have undergone rigorous testing and quality assurance is a top priority. Should you have questions; the staff behind our products can assist you in answering anything regarding reflective insulation, applications or a unique installation. We look forward to hearing from you; click on our, "Contact Us" tab above to reach out to us.
What is the fire rating of Low-e Insulation?
All ESP Low-E™ products have a Class A Class 1 Fire/Smoke rating unless otherwise noted on labels/brochures.
Why is Low-E™ so effective in stopping heat gain and heat loss?
The key is the 99.4% polished aluminum facings on the product. Low-E™ stops 97% of radiant energy that it encounters from passing through the product. By allowing ONLY 3% of radiant energy to pass through, you will see noticeable savings on your next heating and cooling bills. Low-E™ helps prevent radiant energy, which accounts for between 60% and 93% of heat gain/loss in/out of a home. Also, the closed-cell polyethylene foam acts a thermal brake, moisture barrier, and sound deadener.
Where can you buy Low-E™?
Distribution of our product is through national and local lumber yards; residential and commercial building suppliers; heating and plumbing wholesale. Check out our, "Find a Dealer" tab above to see what dealer is closest to you.
Green Building & Low-E?
Low-E™ Reflective Insulation meets current "green" standards in many ways, including but not limited to; increasing the thermal efficiency of the building envelope without increased space. Core material can be made from post and pre-consumer recycled goods. Air infiltration barrier reduces gaps and leaks; which accounts for between 25-40 percent of the energy used for heating and cooling in a typical residence. The product does not promote mold or fungus growth, which contributes to safety and peace of mind. It can easily add energy savings to new or existing buildings. No airborne fibers or particulates will degrade your air quality, making it safe for installers and occupants.
Commonly Asked Home Installation Questions
We were told never to put vinyl siding over an aluminum backer board, is this true?
Years ago, there were products used on the exterior of homes that stored radiant energy. Because of this heat storage, siding started to warp over a period of time. Unlike Low-E™ HouseWrap with a 99.4% polished aluminum facing, it reflects 97% of the radiant energy from the sun from entering the building envelope thus keeping your home much cooler. Low-E™ HouseWrap does not store heat and has been approved by most major siding companies, today, as it does not violate their respective warranties. Products with tin holds heat and there for can superheat. Low-E™ acts as a thermal break and reflects heat; does not store it.
What are the differences between Low-E™ Housewrap and other house wraps on the market?
Low-E™ HouseWrap meets the perm rating (breath ability requirements) as per ASTM E-96:4.65, but the unprecedented advantage of Low-E HouseWrap is an additional R-Value of 4.17. Stated R-Values for a specific application are based on the same testing methods as other insulations, and Low-E HouseWrap is an ICC approved weather resistive barrier. Other house wraps give you a breathable barrier only with no insulation value. Low-E™ HouseWrap also meets code. With Low-E™ HouseWrap there is no need to do two runs (fanfold/tyvec). With our housewrap it also prevents needing to do 2x6 construction.
Will Low-E™ insulation keep my house cooler in the summertime?
Yes, the addition of Low-E™ insulation in new construction or an existing home will help to cool an attic space quickly, and depending on how widely it is installed in the home, keep it comfortable year round. Low-E™ offers multiple solutions based on insulation location or specified design need. For instance, installing Low-E™ Attic Floor insulation will help reduce heat gain into the building's conditioned space while allowing moisture to escape through the roof vent or soffits. It will also make the mass insulation you already have work better since it will not have to absorb so much heat in the summer. The insulation reflects 97% of radiant heat- the number one source of heat entering a home. In turn, Low-E™ Insulation creates a thermal break that will also keep house warmer in winter by helping keep heat in the conditioned living space. Please click on our Applications page HERE to see all the different products available to use in the attic and around the home to keep it cooler.
How can the Attic Floor Insulation benefit my old house?
If your attic floor is open, you can lay the Low-E™ Attic Floor insulation right across the top of your existing insulation. This will stop 97% of the radiant energy from passing down into your conditioned space. The Low-E™ Attic Floor insulation is perforated (breathable) which prevents moisture from being trapped. For many owners of older homes, they feel a large temperature change between the upstairs and downstairs in the summer-especially in the afternoon. The sun's radiant energy is passing through the roof and the mass insulation slowly stores the heat which eventually transfers down to the conditioned space causing heat gain. This makes your air conditioner work harder to cool the conditioned space. In many homes, the afternoon heat proves difficult for the air conditioner to keep a constant temperature and the temperature increases upstairs. As stated earlier, with the installation of Low-E™ Attic Floor insulation, the heat gain will not be as severe since 97% of the radiant heat will be reflected and lower cooling cost may result. In the winter time, the Low-E™ Attic Floor insulation will slow down the heat loss from the home through your attic.
I have a gas hot water heater, can I use a Low-E™ Hot Water Wrap?
Yes! In each Low-E™ Hot Water Heater Jacket Kit there is an Instruction Manual that spells out how to install on either a gas or electric. Each wrap comes with enough material to cover the largest hot water tank along with spacers and tape.
If I am pouring a concrete slab, will the fresh concrete affect either side of the Low-E™ Slabshield? What side goes up?
The concrete will not affect the Low-E™ SlabShield polyethylene closed cell foam. It does not matter which side is facing up; both sides are foam sandwiching aluminum. The 99.4% pure polished aluminum foil in Low-E™ SlabShield is sandwiched in between two layers of closed cell foam. You will notice a tab on each side of the Low-E™ SlabShield that will make it easy to install with one roll over lapping the other preventing the cement from touching the edge of the polished aluminum. This product is a complete vapor barrier and will not require any additional barrier. Low-E™ SlabShield is extremely durable under the toughest conditions with a crush resistance of 70 and a puncture resistance of 93 psi. Builders appreciate the fact that Low-E™ SlabShield does not crack like foam products used in similar wet concrete applications.
Low-E™ HouseWrap
How does Low-E™ HouseWrap help a builder meet the 2012 IECC ("International Energy Conservation Code") with a 2"X4" wall assembly in climate zones 1 through 5?
Installing Low-E™ HouseWrap over the exterior 1/2" sheathing (directly behind vinyl hollow back siding) and substituting R-15 fiberglass within the stud wall cavity will comply with the alternate U-factor option allowed by the 2012 IECC. This can be proven by the ResCheck program or a RESNET approved rater.
What is the "R" value of Low-E™ HouseWrap?
All reflective insulations achieve R-value by evaluating the core resistance of the material and the airspace facing their low emissivity foil facing. This is known as a system R-value. When evaluated behind hollow backed vinyl siding, Low-E™ HouseWrap has an R-value of 4. The Low-E™ HouseWrap Technical Manual has third party certified R and U-value data available for most siding applications.
Will Low-E™ HouseWrap warp/melt my siding?
No, the inclusion of Low-E™ will not melt your siding. It reflects 97% of the heat that was already present and thermal infrared studies show that there is a nominal 2 degree increase in temperature on the siding. All the major siding manufacturers affirm that Low-E™ will not invalidate their respective warranties.
Are window or door jamb extensions or trim changes needed when using Low-E™ HouseWrap as they are when board insulation or solid core siding is used?
No. Low-E™ HouseWrap is only 3/16" thick and requires no jam extensions or trim modifications. This is a huge labor and material cost saver.
What type of fastener is recommended to install Low-E™ HouseWrap?
Standard button top fasteners are recommended. Also, per the International Code Council, all house wraps should have taped seams.
What is the foil flange for on one edge of Low-E™ HouseWrap?
Low-E™ HouseWrap is installed horizontally like other house wraps. The foil flange is an edge overlap that lays over the trim edge of the run below it. This overlap serves as a drainage plain to prevent moisture from getting between seams.
Can Low-E™ HouseWrap be used to comply with the Energy Star New Home Program requirements for wall assemblies?
The Energy Star New Homes Program Revision 7 does not specify the need for any house wrap. However, code in most areas does. That said, the Low-E™ HouseWrap may help builders to comply with the Energy Star checklists- such as sealing the building envelop and reducing air changes per hour. In addition, Low-E™ HouseWrap provides thermal performance to a wall system that can help builders meet Energy Star wall envelope requirements. Low-E™ HouseWrap has been incorporated into thousands of Energy Star Homes over the years.