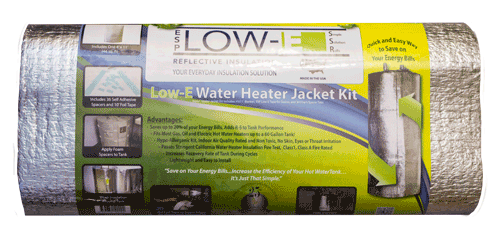 Low-E™ SSR Water Heater Jacket Kit
Available Online and in Hardware Stores. Please call for more information.
Save on Your Energy Bills... Increase the Efficiency of Your Hot Water Tank... It's Just that Simple!
Over 67 Applications and Counting...Here are just a few...
Behind Home Radiator, Window AC Wrap, Large Windsheild or Tire Protector for RV, Toy Hauler, Ice Chest, Cooler Wrap, Drinking Trough for Livestock, Under Carpet, Automobile Doors and Headliners, Tent and Sleeping Bag Mat, Above Ground Pool Mat, House Window Liner, Flex Ducts, Floating Floor, Carpet Underlay, Waterheaters, and so much more!
Water Heater Jacket Kits
Benefits of the Water Heater Jacket Kit

Save up to 20% on your energy bills - Adds R-5 to tank performance
Fits most electric and gas hot water heaters - up to a 60 gallon tank
Hypo-Allergenic kit, indoor air quality rated and non toxic, no skin, eyes or throat irritation
Passes stringent California Water Heater Insulation Fire Test, Class 1, Class A Fire Rated
Proudly 100% made in the USA
Increases recovery rate of tank during cycles
Lightweight, durable, and easy to install
Environmentally friendly
ESP® Low-E Water HeaterJacket Kits have passed the stringent California Home Furnishing and Thermal Insulation's Water Heater Insulation Fire Test. ASTM E 84 (Standard Test Method for Surface Burning Characteristics of Building Material): Flame Rating: 0 Smoke Rating: 20 Class A / Class I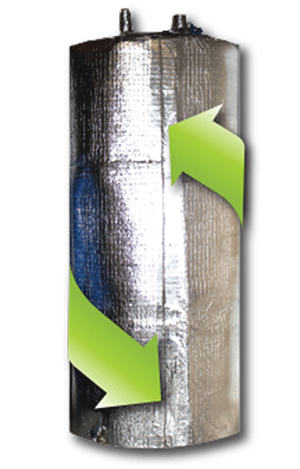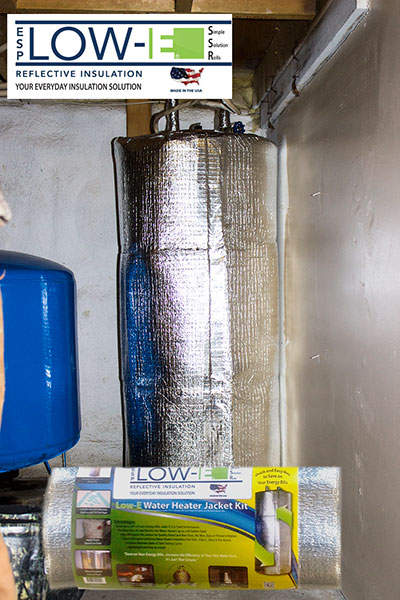 Testimonials:
After installing your hot water jacket kit, I was shocked to see steam coming out of my faucet the first time I drew hot water from the spigot. I was told the thermostats had not yet adjusted to the Low-E Wrap. After seeing this I was definitely sold!
Why Low-E SSR?
Energy efficiency is no longer just a trend: it's a way of life. Homeowners demand products that make it easy to manage energy costs through the prevention of heat transfer. ESP® Low-E Simple Solution Rolls are designed to give homeowners the versatility to manage those costs. Whether they are used with garage doors, on water heaters, in vehicles, behind radiators, around windows or in larger applications, ESP® Low-E SSRs offer a range of ways to prevent waste in heating and cooling – and in doing so, save homeowners money.