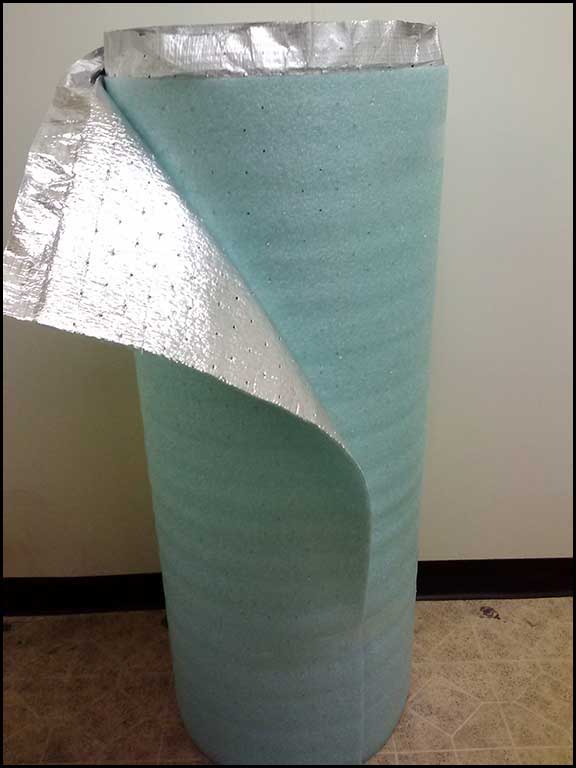 Low-E™ House Wrap
Low-E™ House Wrap incorporates a closed cell polyethylene foam that is heat bonded to a pure aluminum reinforced facing and then perforated. This results in a housewrap that not only meets ICC requirements for weather resistant barriers but also adds insulation to the wall assembly of the home blocking up to 97% of radiant heat in the hot summer months. Better year round efficiency and comfort levels are achieved. It is installed just like your average housewrap and will satisfy 2012 IECC regulations for wall systems
"Savings enough to pay for this upgrade in 3 years or less!"
Installation is a Breeze!

Also unlike other house-wraps or insulating products that are traditionally used, Low-E™ House Wrap is totally non-toxic, and its performance is not affected by initial exposure to the elements. This product is available in 4 ft x 125 ft rolls that weigh only about 20lbs, 5 ft x 100' rolls and 6ft. x 84' rolls. Installation is a breeze.
Why Low-E™?
Green building is not just a trend, but the wave of the future as more and more homeowners and builders demand energy efficient homes and products. ESP® Low-E Insulation products are designed for maximum energy and cost efficiency. Whether it's under slab, under roof, around duct work or wrapping the entire house, ESP® Low-E Reflective Insulation saves more money on heating and cooling than regular insulation and housewrap.