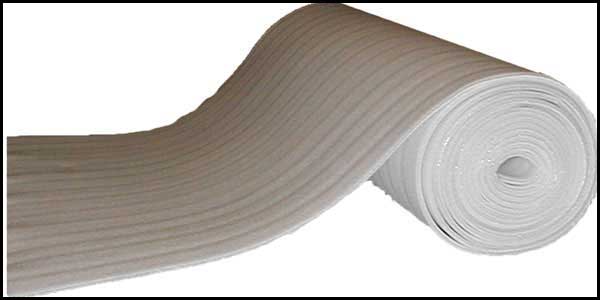 Therm-E Pad
A revolutionary change for the carpet underlayment industry.Therm-E Pad has a R-Value of 1.6, ASTM C 518
A truly new type of carpet pad!
A revolutionary change for the carpet underlayment industry!

Time Tested In Real World Applications
Independently Lab Tested
Will Not off gas or Absorb Odors
99.9% PURE Aluminum CORE
Carpet Slides Easily Over Surface During Install
Light Weight, MADE FROM RECYCLED POLYETHYLENE AND ALUMINUM
EXCELLENT THERMAL BARRIER FOR COLD CONCRETE FLOORS
WILL NOT WICK MOISTURE or ABSORB CLEANING FLUIDS USED ON CARPET
Made In the USA
Why Low-E?
Green building is not just a trend, but the wave of the future as more and more homeowners and builders demand energy efficient homes and products. ESP® Low-E Insulation products are designed for maximum energy and cost efficiency. Whether it's under slab, under roof, around duct work or wrapping the entire house, ESP® Low-E Reflective Insulation saves more money on heating and cooling than regular insulation and housewrap.