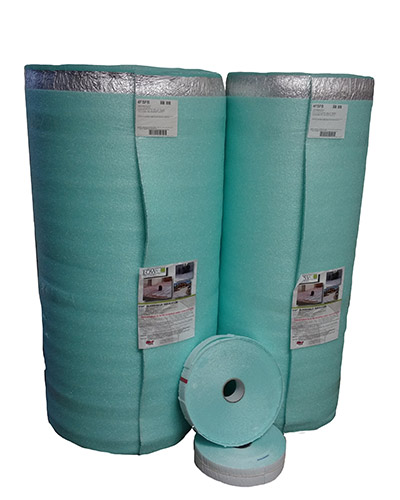 Low-E™ SlabShield
SlabShield insulation was designed specifically for use under concrete slabs both with and without hydronic heating products. It provides a vapor barrier and significant thermal performance. The product has a layer of 99% pure aluminum film sandwiched between two layers of closed cell polyethylene foam. SlabShield is not affected by the chemical reaction of curing concrete and does not crack or crumble when faced with normal job site abuses.
SlabShield is Flexible and Durable!
Visit our SlabShield applications page to see various uses for under concrete applications.
Why Low-E™?
Green building is not just a trend, but the wave of the future as more and more homeowners and builders demand energy efficient homes and products. ESP® Low-E Insulation products are designed for maximum energy and cost efficiency. Whether it's under slab, under roof, around duct work or wrapping the entire house, ESP® Low-E Reflective Insulation saves more money on heating and cooling than regular insulation and housewrap.